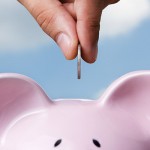 For most people, their home is the single largest asset they own. And not surprisingly, the mortgage loan is the single largest debt. Paying your mortgage off early means that you pay less interest. This strategy for an early pay off is not as difficult as one might imagine if you implement the appropriate steps early on. Here are three ways to pay your mortgage off early.
1. Bi-Weekly Payments – Many lenders will allow a homeowner to make bi-weekly payments on the mortgage. This method, if implemented early in the loan, can take many years off the mortgage resulting in savings on interest and a fully owned home.
For example, if your monthly is $1500 per month, you would be paying $18,000 per year. If you paid $750 every two weeks (like most people are paid by employers), you would be paying in $19,500 per year and thereby retiring the mortgage earlier and reducing the total interest paid to the lender. A little bit can go a long way when it comes to a 30 year mortgage with interest.
2. Refinance to a 15 year Loan – By refinancing a 30 year mortgage to a 15 or 20 year mortgage, the borrower saves a tremendous amount of interest on the loan. Although your payments will be higher, shorter term loans usually qualify for a lower interest rate. If the lender would then allow a bi-weekly payment plan on the new shorter-term mortgage – the loan would be retired even earlier, thus saving even more interest charges.
3. Make extra income and put it towards mortgage payments – A strategy that many individuals are actively using in today's uncertain economic climate is to build a side business or home-based business around family and work commitments. Australian website, the Home Business Hub has written some fantastic articles with loads of tips and advice about how to make extra money by working from home or through a home based business.
Although it is a great feeling to retire a mortgage early, the borrower needs to remember that other loans with higher interest rates should be retired before spending disposable income on retiring the mortgage that would be at a lower rate. Credit cards, personal loans and car loans often have a higher interest rate. These types of loans should be paid off first, for example.